The Top 4 Social Selling Courses Built By REAL Experts
Mar 26, 2023
Why is "REAL" capitalized?
Because, to make it on this list, the creator of a course has to have sold over seven figures of revenue from their social selling efforts. We won't promote any course here that relies on encouraging you to spam or automate your interactions to build your business.
First, here's the executive summary:
To round out your knowledge base, and get a wider perspective on the methods and practices available, consider investing in more than one of these courses, until you find the one that works best for you.
Most likely, you'll end up with a strategy that involves a blend of what you learn in 2-3 different courses.
Here are the top courses - and they are in no particular order. This does not represent a hierarchically-ordered list by quality!
Education is one of the best investments you can make, so move forward with confidence!
1.
7-Figure Social Selling

, by Alex Boyd
This course was built by me - I'm Alex Boyd, Founder of RevenueZen and Aware - after years spent sourcing revenue for my B2B marketing services agency via my LinkedIn presence. I built it to teach you how to spend less than 20 minutes a day on LinkedIn, and grow your revenue to seven figures and beyond.
With 20+ five star testimonials, you're de-risking your investment by investing in lifetime access to material that has been proven to drive millions of dollars in sales. Especially if you're in a B2B role, such as an agency owner or a SaaS seller.
You'll learn the 3 Principles of Social Selling that will help change you from seeming like "just another salesperson" into a trusted expert. You'll learn the Social Selling Method involving creating high-converting content, engaging effectively with others to build influence, and taking conversations offline smoothly and artfully.
➡️ Click here to get a license of the 7-Figure Social Selling course.
Drawbacks:
You won't learn how to use AI or ChatGPT, and the methods described are not a good fit for most entry-level people who are new to their industry and haven't yet accumulated any significant knowledge or insights yet. That being said, within 1-2 quarters, most people who are new to an industry can accumulate this knowledge relatively quickly, if they're curious and persistent, so don't let this hold you back!
2.
The Seller's Guide To LinkedIn,

by Morgan Smith & Nicholas Thickett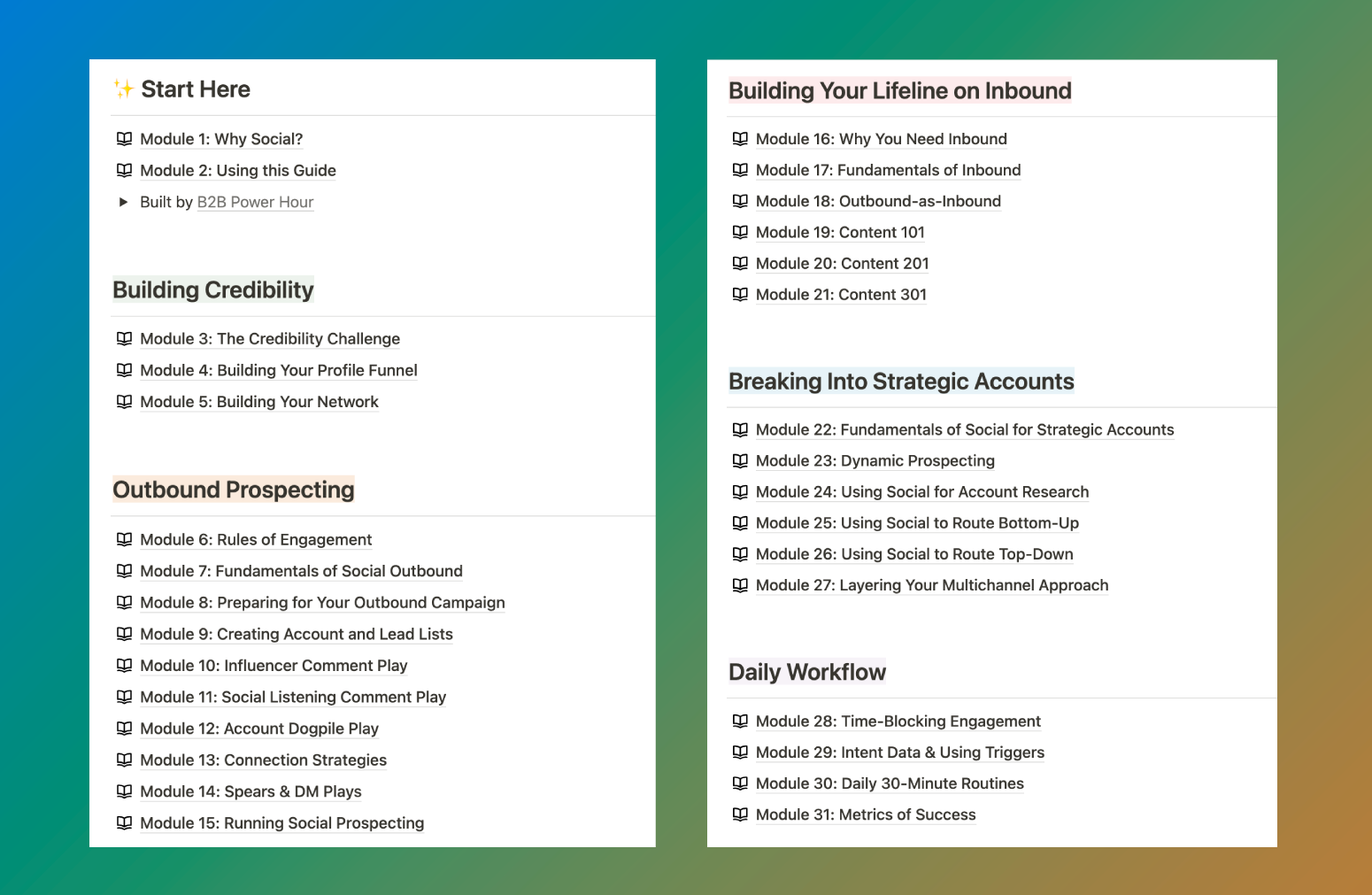 This guide was built by two heavyweights of the social selling world: Morgan Smith and Nicholas Thickett, the managing partners of B2B Power Hour & Alignd.
You should buy this product - currently priced at $299 - if you're a Sales/Business/Account Development Representative (SDR, BDR, XDR, etc). That's because Morgan and Nick focus their training on how to prospect, break into target accounts, and use Sales Navigator. The guide isn't "anti-personal brand", but the focus is on how to prospect and sell without needing to have, or care much about, your own personal brand.
We highly recommend The Seller's Guide to LinkedIn if you're actively working in a B2B sales role. Business owners and founders who don't have much time to prospect every day in a disciplined way, may struggle to hold themselves accountable to the concepts and methods taught in this course.
Overall, our verdict is: Bravo, Morgan and Nicholas!
Drawbacks:
One downside of this product is that it's not delivered in video format, if that's what you're looking for. It's a long text file with accompanying images (200+ pages in Notion!) It's not hosted within an LMS, as opposed to an On Demand Video course where an instructor teaches you through the concepts on video.
3.
The LinkedIn Influencer Playbook

, by Samantha McKenna
Find this playbook here! If you haven't heard of Samantha McKenna, IYDKNYK! Her skills are especially relevant to social selling after her long, successful career in enterprise sales, including over 6 years leading the sales team at ON24 and almost 2 years leading the enterprise team at LinkedIn itself, in New York! As a result, her knowledge of LinkedIn, and especially Sales Navigator, is incredible and hard-won.
But the quality of this product goes beyond credentials: at 65k+ followers and counting, she's built a profitable business of her own, #samsales Consulting, from her LinkedIn presence. Sam absolutely qualifies as a 7-figure social seller, on the basis of total sales volume sourced from LinkedIn.
Sam brings her wealth of experience in a way that allows you to also share in her wealth-accumulation methods and insights. We're big fans of Sam McKenna as a person, in addition to her content and products.
The curriculum for the playbook includes, but is not limited to:
Content funnel, structure, and inspiration
Tips to please the LinkedIn algorithm while still monetizing your content
How to use LinkedIn content to fuel your SEO strategy
A roundup of LinkedIn tool recommendations
Drawbacks:
This all being said: those looking for a playbook on how to be a "social media creator", monetizing your audience by selling attention and products, and earning influencer revenue from brand sponsorships, may not find this Playbook to be completely relevant to their goals.
Your mileage may vary, but buy this product if you're looking to grow a large audience and sell higher-ticket agency services or software products - not if your primary focus is on maximizing a pure volume of attention.
4.
The Operating System

, by Justin Welsh

One of the most popular courses on LinkedIn! This course can be found here. Justin is an incredible creator and social seller, although I think of him mostly as the former, these days, due to his focus on product sales rather than building up his services practice. That said, his experience at PatientPop, where he grew a sales team from scratch to $50M in ARR, underscores his actual hard sales and sales leadership experience - he isn't 'merely a Creator' who stepped into the limelight with no previous experience.

Justin's methodology is intensely focused on deep customer profile identification, and copywriting skills to help you get to the heart of exactly how to help your customers get 1-2 steps ahead of where they are. He translates this expertly into methodologies that, while somewhat time-consuming to adopt, are very likely to maximize your profile's attention and impressions, leading to product sales.

Having sold millions of dollars' worth of product on LinkedIn, at a low price point of $150, Justin's course is absolutely worth taking if you need a system to help push you in the right direction and just start, without trying to have every detail planned out.

You'll come out of this course motivated to start a side hustle or to earn income online, and with a working system to help you market whatever it is that you want to start selling.

Drawbacks:

Justin doesn't spend a lot of time on authenticity, in his course - it's more focused on copywriting than on what is known as "thought leadership". If you're an executive a or business owner, you might not completely identify with the kind of content that his system teaches you to write. Stylistically, this course is undeniably effective - but it's not for everyone. But if you're looking to grow as a Creator, you're in the right place.
Conclusion
These courses are ones you'll find out about if you're actually actively engaged as a social seller, on LinkedIn. You won't find out about them from an advertisement, or from a basic Google Search.
As someone who has sold several million (and counting) dollars of revenue from LinkedIn, in less than 20 minutes a day, I can tell you that all of the above courses have incredible value, for different types of people: some are more geared toward creators, others toward business owners and agency founders.
You can't go wrong!
If you're having trouble deciding, I encourage you to start with my course, 7-Figure Social Selling, and go from there.
-Alex
Get started today, and learn how to sell millions on LinkedIn.
Enroll Now